A Little Bit of Love—a picture book story I wrote about a mother and daughter mouse duo who gather ingredients around the farm in order to make a pie with a little bit of love in it—was published by Tiger Tales way back in 2011. Turns out, though, that it doesn't matter how long ago it was published to my daughter, because it's grown in her affections as she (and the book) have gotten older.
Yesterday—for the very first time—my daughter and I launched a full-scale reenactment with some key differences:
The mama and small mouse go to the beehives, mill, huckleberry bushes, and dairy for their ingredients. We went to the grocery store.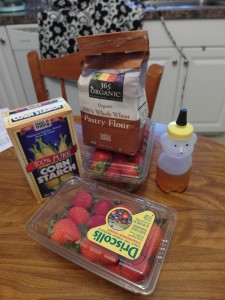 Huckleberries don't grow on every bush, especially in Massachusetts in February. So, we opted for strawberries. And, alas, there are no mills hereabouts to give us freshly ground flour (though we wish that there were), so whole wheat pastry flour it was.
Unlike the perfectly neat loveliness in Hannah Whitty's illustrations, we made an unholy mess in our kitchen.
But we did still shake cream to make butter.
And we still rolled the dough as thin as a crumb. We even sealed the pie with a kiss.
We were covered in whole wheat pastry flour, smeared with cream and butter, and there were strawberries EVERYWHERE. But I wouldn't have traded the experience for anything—story came to life for us on that snowy Sunday morning. And if ever a pie tasted like it had been made with love, well, this pie was it.
So if you have a snowy Sunday morning on your hands, and are looking for something sweet to nibble, here's what we did:
Strawberry Pie (made with A Little Bit of Love)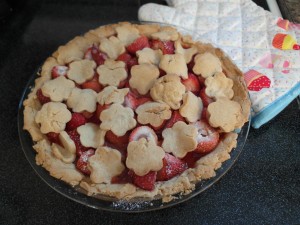 For the crust (makes two 9-inch crusts):
 2 ½ cups whole wheat pastry flour
¼ teaspoon salt
14 tablespoons of very cold butter (some of which we made ourselves)
Several drip, drip, drops of honey
Pop everything into the food processor and whirl it around until a dough form. Chill briefly, and then roll out on a well-floured surface. Press one crust into the bottom of the pie pan.
(Adapted from a Whole Foods recipe you can find here.)
For the strawberry filling:
5 cups of strawberries
½ cup of sugar
3 tablespoons of cornstarch
a pinch of salt
milk to brush on top of the crust
Preheat the over to 400 F. Wash and hull the strawberries. In a large bowl, add the sugar, salt and corn starch and mix it well, and then get your pie crust and fill 'er up. Use a small-sized cookie cutter to create the design of your choice for the top crust. We opted for tiny daisies, because that's just the way we roll. Brush the top crust pieces lightly with milk, and seal it with a kiss (if you dare). Bake at 400 F for 25 minutes, and then at 350 F for another 30 minutes. Let the pie cool completely before you try to cut it. Feast on every last nibble.
(Adapted from the Neelys's recipe here.)