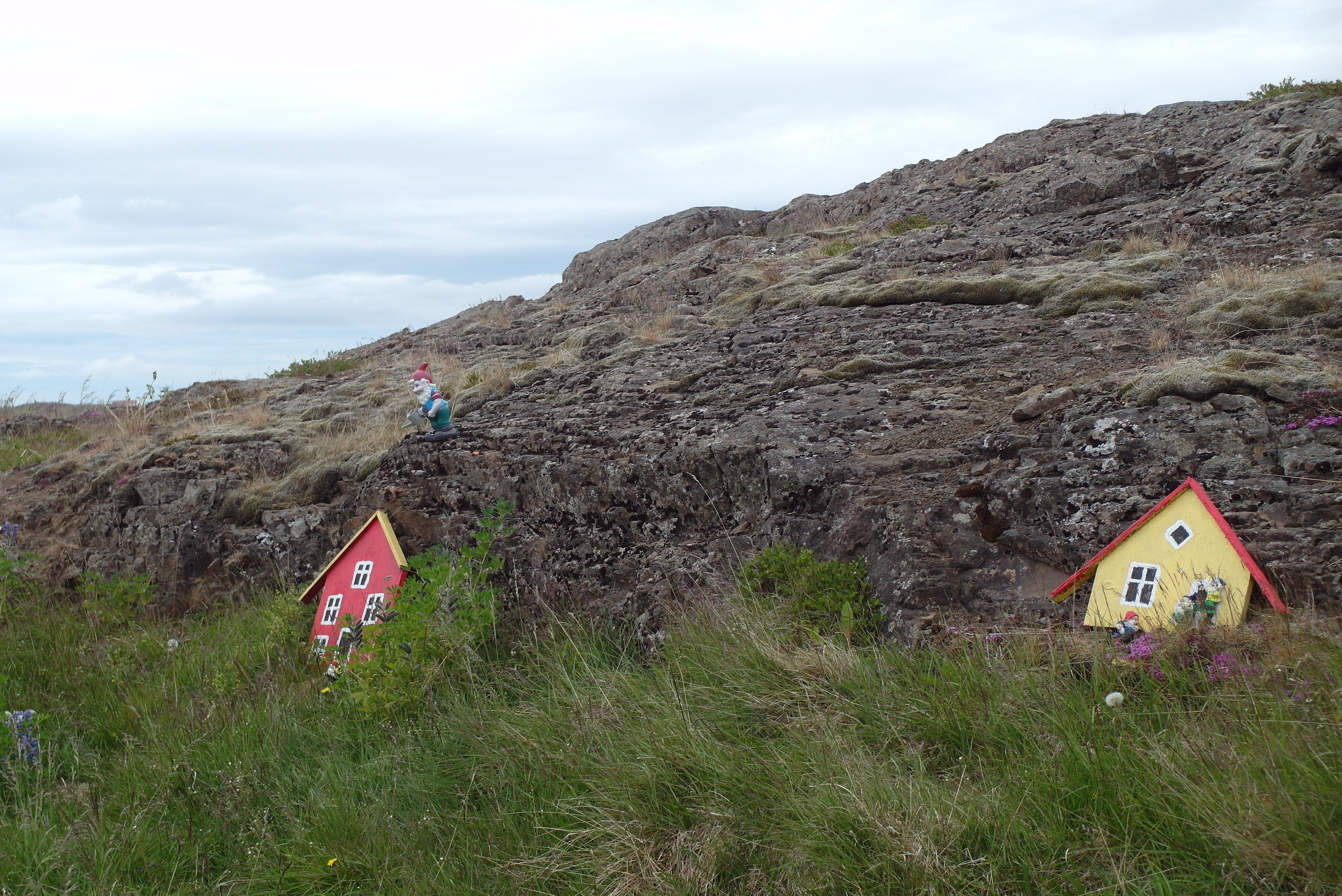 Periodically, as we traveled around Iceland in July, we'd see small houses—elf doors—built up against the side of slabs of volcanic rock. They're built for the elves—the huldofolk or hidden people—who live in the rocks. Because in Iceland, even if you don't believe in elves and fairies outright, you likely don't want to take the chance that they're hidden somewhere close by—and that you haven't treated them with your very best manners.
I was mesmerized by these little elf doors and by the idea that the huldofolk might be hiding in plain sight, if only you had the gift to see them. We even went on an elf tour to see some of the hidden folk's favorite hangouts while we were there. When our tour guide told us that some people could actually hear the elves at one large rock, my kiddo and I immediately put our ears to it to see if we could hear anything. Because you never know. As my husband put it, we had no idea if we could see or hear the elves yet. And who doesn't want to be open to the possibility of magic?
As an editor and a writer, you have to be at least a little open to letting magic in. There is something, call it what you will, about reading a pile of submissions and finding one that sings to you or persistently putting words down on the page in the hopes that these might be ones that work. And as a parent there's a certain level of magic built in, too. We play and imagine, paint and create, write and laugh.
But it's too easy to set aside the magic and get mired down in the more mundane details of life. I've tried my best to embrace the hygge this winter, but it hasn't always been easy. There are still deadlines and stress, clutter and chaos, grief and loss no matter how many candles I light at night. The feeling of coziness can slip away all too easily.
Last night, I worried that it was slipping away again. With a kid getting over a stomach bug, our New Year's Eve plans went out the window and we were home together on the sofa as if it was just any old night—which it was, after all. Then we made some decisions. I picked up some fancy cheese to munch on. We watched a live stream of Reykjavik's fireworks and celebrated the New Year on Iceland time before our tired kiddo went to sleep. My husband indulged my love of the X-Files by watching some of the first season with me for the first time as we drank mulled mead and ate tarts filled with apple butter I'd made myself. It was a nice night.
Magic can seep into life in so many different ways. For me, it can be a book that sets me on fire, or watching the new Star Wars movie on opening night with a couple of hundred of other crazy fans. It can be my kiddo giving me two albums she hates for Christmas (Frank Turner and One Direction) because she knows they'll make me happy. It can be a bowl of porridge and a cup of tea on the first morning of 2016.
What matters isn't when the magic slips away, but the decision to keep trying to let it in, in whatever form it takes. So, as my little family welcomes this new year, I'm determined to keep putting my ear to the elf rock—and to try to be open to whatever I might hear within it.