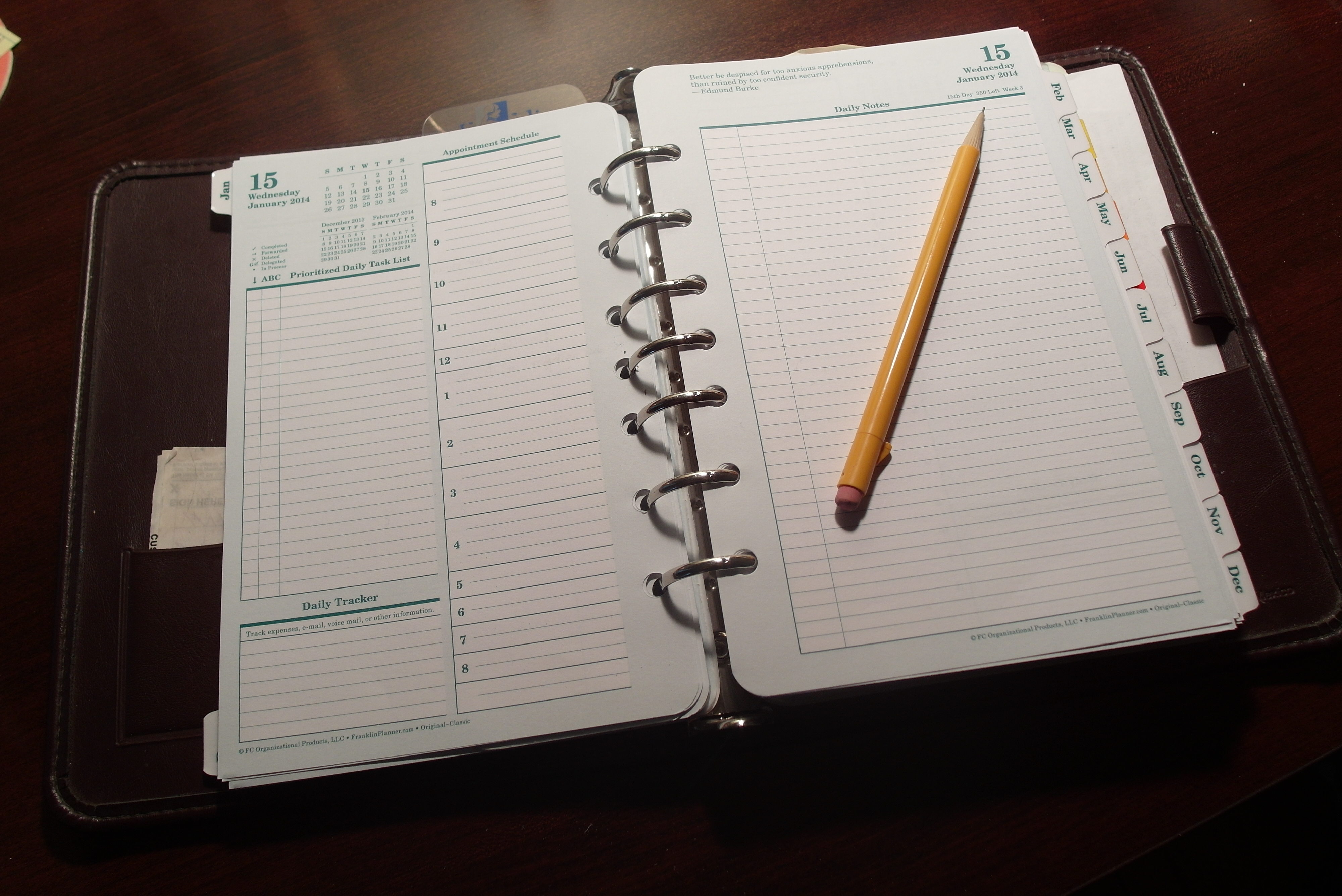 It is an undeniable fact: I am a list-maker. From what to buy at the supermarket, to what to pack for a trip, to what I need to do each and every day, there is a list. Indeed, I've had the same Franklin Planner since approximately 1997, for which I dutifully buy new, blank pages upon which to list-make at the start of every year.
For me, this is a sanity preservation device: I know my own tendency to become wildly stressed out if I don't feel like I'm on top of things, so I try to keep on top of things. I am not a procrastinator—doing stuff at the last minute tends to eat away at my mental well-being. So, each day, I make a list of the things I need to accomplish. On paper, in pencil, with a system to mark off what I've done, what's only partially done, and what's going to have to wait a day or two. If this sounds like madness to you, fair enough. But it works for me and they're not created for the benefit of anybody but me.
The long and the short of it is, I understand the urge to list things off and make sense of them.
What I guess I don't understand is making lists of books based on things like Flavorwire's "50 Novels Guaranteed to Make You a Better Person."  Okay, so there are some good books on there, and there are worse ways to spend your day than putting together a list of good books. And, okay, so there's research out in the ether that says that reading novels is good for you—can even make you more empathetic. As a life-long reader, I didn't really need any scientific research to tell me this, of course. I know it from experience. I also know from experience that one woman's life-changing read is another terrible bore. Because what changes you is as individual and subjective as being you is. I often joke, but truly believe, that while some people turn to religious texts in their times of need, I turn to Middlemarch. For me, that's what's life affirming and life changing. So to create a list of books that will help someone else be a better person seems like an exercise in futility.
Now, don't get me wrong: I like a good book list. I like Goodreads for that very reason—readers putting together lists of books that they've enjoyed, usually by some sort of categorization. But creating such a list—one that says, hey these were great books that I liked!—and saying hey, these books will make you a better person, are two very different things. By all means, share what you love with me. Maybe I'll love it, too. But don't presume to dictate what might do something as enormous as improve a person on a fundamental level. Because my George Elliot might be your Jonathan Franzen. Maybe Choose-Your-Own-Adventure books opened up a world of possibilities for you as a kid. Who knows?
On my desk at all times is a little bookmark that contains a snippet of text from Little Women in a glass tube. I keep this on whatever desk I use as an editor—and it's traveled with me from one location to another for many years—as a physical reminder as I read submissions and edit stories that everyone has their own special, life-changing books. Little Women turned me into a serious reader. Any other book might do that for any other reader.
So, at the risk of sounding cranky—and oh, I fear that I do sound cranky!—telling people that this book or that one will make them better or change their lives (and why it will) is kind of hooey. Tell me what you love, but then let me sit back and discover what I can in a book—and let it change me or not as it will!