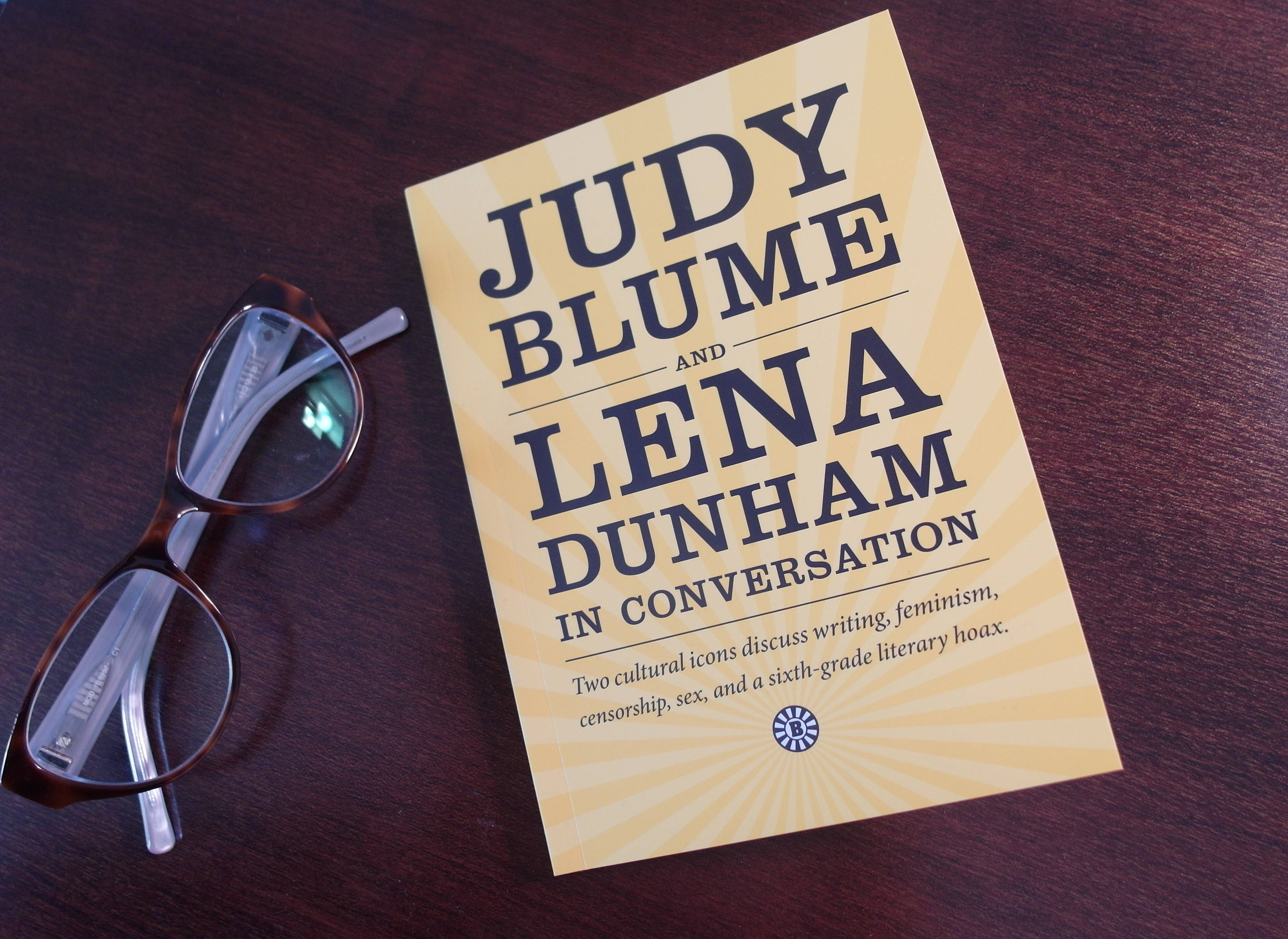 Yesterday, a package from Believer magazine arrived in the mail. It was much smaller than the usual magazine, so naturally, it was intriguing. Inside, was a pocket-sized gem of a paperback book: Judy Blume and Lena Dunham In Conversation. There had been an interview in the actual magazine itself, but here was a long version—in a perfect trim size—just waiting for me to devour.
It goes without saying—even though I talk about it a lot—that I greatly admire Judy Blume. Her books were always a treat to read, but in particular, Are You There, God? It's Me, Margaret was a touchstone for my younger reading self. She's been controversial, she's been banned, she's been beloved. Throughout it all, she's been honest and she's taken her audience very seriously—and that counts for a lot in my book.
When it comes to Lena Dunham, I know only what I've read in interviews. I've never once seen the show Girls, but have wondered for some time if there's something that I'm missing by simply not having the right cable television package to watch it. I'm more convinced than ever after reading this lengthy interview.
One is young and just arrived at her icon status, one has had time to adjust to it and live in her own skin as a writer. One has pushed the limits with her words, and the other sometimes does it with the baring of her own body. But both of these women have dared to go where no one expected them to—probably where a lot of people didn't even want them to. They're utterly brave in their creativity. So it makes sense that they sat down together—even decided to be friends afterward!—and talked about their process, their work, their families, and their lives.
I've been thinking a lot lately about what it means to create—what the rewards and the drawbacks are, and why we as people are so drawn to the very act of creation. In the end, I think we all want to be brave as Judy Blume and Lena Dunham in what we create—whether we're painting or writing or making music or dancing or acting or…whatever. We want to boldly go where no one has before—to tell a story in whichever mode of telling we choose that's somehow both a part of ourselves and a part of something bigger than ourselves.
So, this interview—this brief look into the minds of these two very writers—struck a chord for me. If you have a chance, take an hour (or less, really) to read it. Heck, you can even borrow my copy. It's a little dog-eared, but who minds that among friends?