Anyone who knows me also knows that George Eliot's Middlemarch is my touchtone, my Good Book. Some people turn to religious texts in times of trouble or even great joy. I turn to Middlemarch. This is not for inspiration as writer or even in an attempt to emulate her craft or techniques—it is a singular work, not to be imitated.
A friend and colleague who knows me far too well gave me an amazing gift for Christmas this year: a silver bracelet with this epigram from Middlemarch inscribed on it: I would not creep along the coast but steer out in mid-sea, by guidance of the stars.
I wear this bracelet everyday. It's small, simple, completely unobtrusive, and goes with whatever I happen to wearing (and since most of my wardrobe is also simple and completely unobtrusive, it works out nicely). Yet it allows me to carry a piece of this book with me everywhere I go, and there's something deeply comforting about that.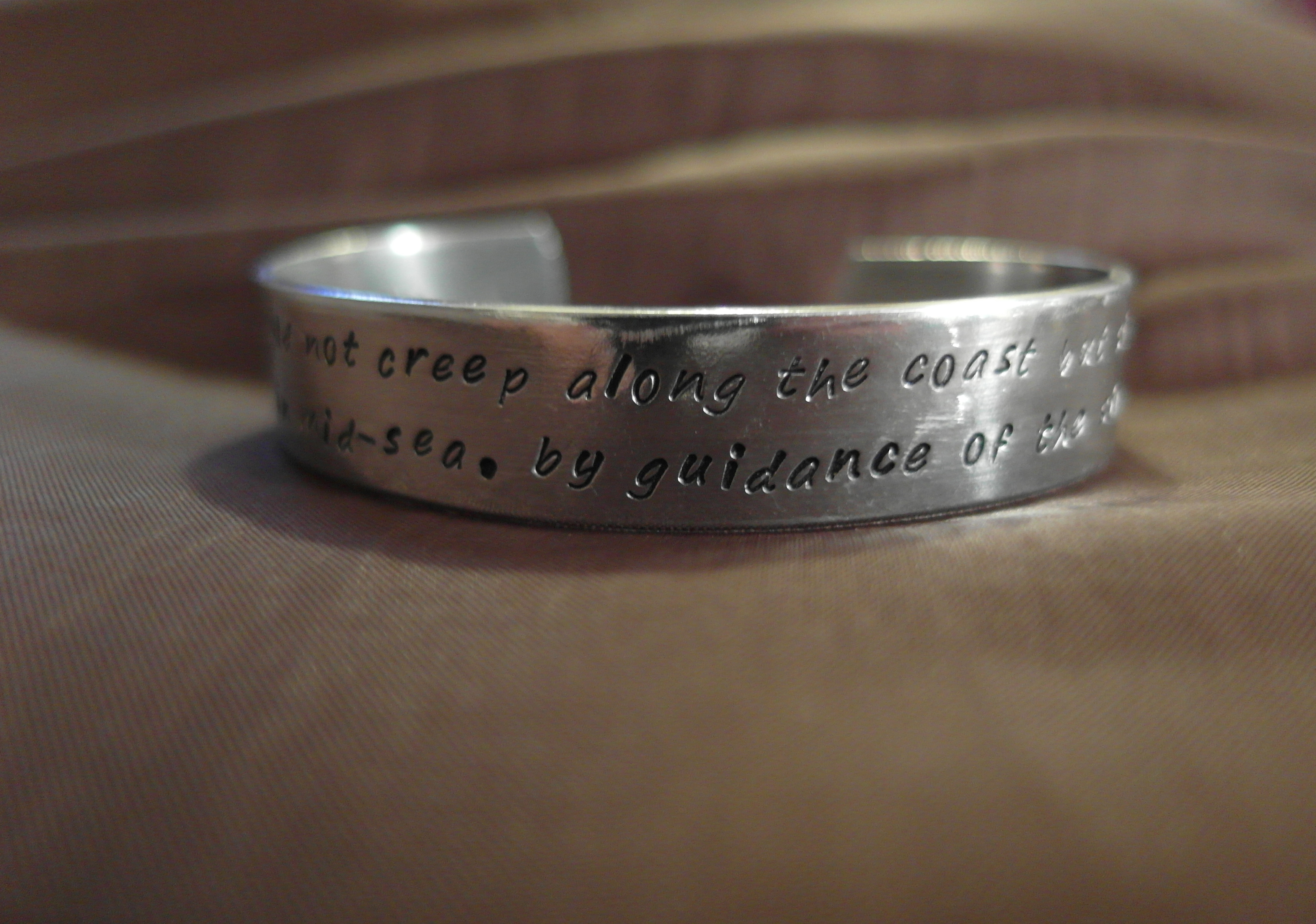 This year, as I've thrown myself headlong into a world in which I'm a part-time editor, a full-time MFA student, and an all-the-time mother, somehow having these words about me all the time has meant more than just comfort.
I've never wanted to creep along the coast, to take the road that's been appointed to me and stay safely on it. I guess that's why I'm putting myself and my husband into debt right now on a degree—and a dream—that might not ever come to the fruition I hope it will. But to not try, to not keep pushing myself, is unthinkable.
Though unlike Tennyson's Ulysses (or Homer's, for that matter) in almost every way, I want to "drink Life to the lees." I want to "follow knowledge like a sinking star." For some, this would mean a life of exploration and adventure. For me personally, at home with a family I adore, the adventure is the writing.
So, I'm trying to steer out to mid-sea, and if the stars can guide me in any way, let the heavens bring it on.